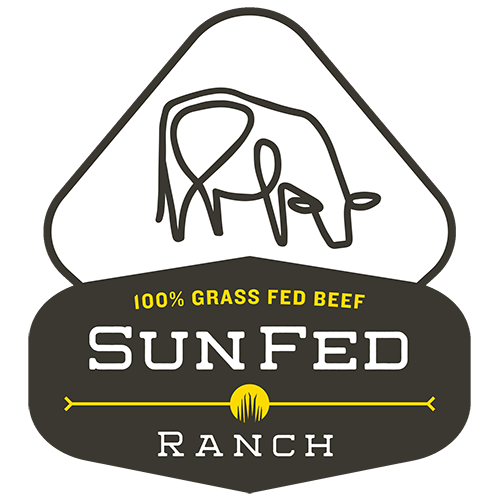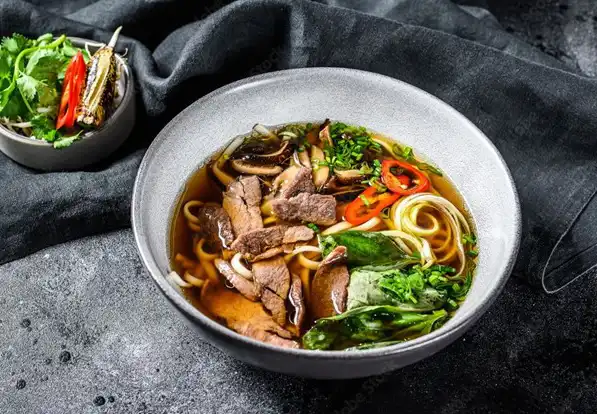 SunFed Ranch Pho Bo
Roasts
PRODUCT

Braising
COOKING
30 Minutes
PREP TIME

90 Minutes
COOK TIME

120 Minutes
TOTAL TIME

6
SERVINGS
Ingredients
1 ½ lbs SunFed Ranch 100% Grass Fed Beef Chuck, boned, rinsed, fat trimmed
8 oz SunFed Ranch 100% Grass Fed Sirloin Steak, fat trimmed, very thinly sliced
2 ¼ quarts 100% Grass Fed Beef Broth
½ cup gingerroot, thinly sliced
1 cup shallot, thinly sliced
1 tsp anise seed or 3 star anise, whole
1 cinnamon stick
¼ cup Southeast Asian fish sauce (Nouc Mam Sauce)
1 tbsp sugar
1/8 tsp salt
2 tbsp Southeast Asian fish sauce (Nouc Mam Sauce)
2 cups bean sprouts, rinsed (optional)
¼ cup jalapeno chile, thinly sliced (optional)
½ cup Thai basil, rinsed (optional)
½ cup fresh cilantro, rinsed (optional)
3 limes, rinsed and cut into wedges (optional)
6 cups cooked rice vermicelli
½ cup yellow onion, thinly sliced
¾ cup green onion, thinly sliced (including tops)
Hoisin sauce (optional)
Southeast Asian fish sauce (Nouc Mam Sauce) (optional)
Instructions
Wrap the ginger, anise, shallots, and cinnamon in two layers of cheesecloth and tie with a heavy cotton string.
In a 10 qt pan, combine grass fed beef chuck, broth, 2 ½ qts water, nouc mam sauce, sugar, and spice bundle. Cover and bring to a boil over high heat. Once it is boiling, uncover, reduce heat, and simmer until beef is tender when pierced (1 ½ to 1 ¾ hours).
With a slotted spoon, transfer chuck to a separate container. Freeze beef and refrigerate soup for 3 hours.
Thinly slice frozen beef chuck, perpendicular to the grain, into 2 ½ inch slices.
Skim and discard fat from broth. Add 1/8 tsp salt and 2 tbsp Nouc Mam sauce. Bring the broth back to a boil.
Arrange bean sprouts, chiles, basil, cilantro, and limes on a platter.
Once the broth is boiling, reduce to a simmer. Immerse the sliced grass fed sirloin in the simmering broth using a skimmer and cook until brown on the outside but still pink in the center, about 30 seconds to 1 min. Lift out and set aside.
Into 6 large bowls, evenly distribute your hot cooked rice noodles. Top with beef chuck, sirloin, yellow onion, and green onions. Ladle broth to cover noodles.
Serve Pho Bo with your platter of herbs, and season to taste with hoisin and sriracha sauce.