Chuck
Rich, beefy and large enough to feed a (very) hungry fam. A "cut of all trades," providing slow-cooker roasts and grill-ready tender cuts like Flat Iron steak. A crowd feeder and crowd pleaser.
Rib
Home to some of the beefiest cuts around. From rich and flavorful Ribeye Steak to Prime Rib Roast…you're gonna need some napkins.
Shortloin
Grill masters, this one's all you. Tenderloin, Strip, T-Bone and Porterhouse…these loin cuts are ready for the grill, broiler, or pan searing.
Sirloin
Both the Top Sirloin Butt and Bottom Sirloin Butt deliver serious beef flavor – no ifs, ands, or…buts. In the Top Sirlon you'll find steaks ready to be seasoned and meet your grill grates. The Bottom Sirloin provides cuts like Tri-Tip and Sirloin Bavette; lean, tender, full of flavor – and a bargain compared to many other cuts.
Round
Muscles in the the rump and hind leg sections bring lean, wallet-friendly cuts to the table. Ideal for rich roasts, marinated seared steaks, and versatile ground beef.
Brisket
Cooking this cut low and slow is the secret to making it shine, which is why a whole bunch of brisket BBQ pros swear by it.
Short Plate
The higher fat content here delivers a flavor jackpot. Short Rib, meat for Ground Beef, Skirt Steak…it's all versatile, and it's all good.
Flank
Home of the Flank Steak. Lean, huge on flavor, and loves to be braised, or marinated and grilled.
Shank
This cut might be humble. But it's mighty tasty, too. You've just gotta know how to handle it. Since the Shank is a portion of the leg, it's typically cut into cross sections called Shank Cross-Cuts, which are then braised to make flavorful, fork-tender dishes such as Osso Buco.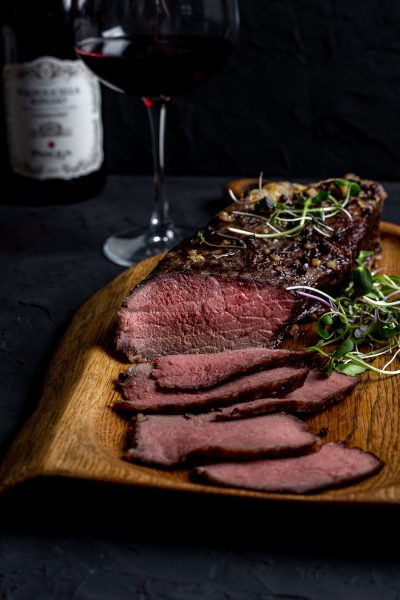 Grass Fed Loves a Good Glass
There's not a tastier, more robust dinnertime duo than grass fed beef and a bottle of wine. (And if there is, it certainly hasn't landed on any table of ours yet.) What's the perfect pairing? We really like herding up a heady red with our beef. It pulls out all of the rich characteristics and irresistible juiciness of the meat, without competing or overwhelming your palate. For a steak without a lot of fixins, try staying true to the source – match the origin of your dish to the origin of your wine. SunFed Ranch Beef hails from Northern California, so a Napa or Sonoma Cabernet is perfect.
But here's the thing. When you add other ingredients to the mix, it's not just the beef you want to complement. There might be an element of heat, creaminess or smokiness you need to factor in.