SunFed Ranch Grassfed Standards Definitions:
SunFed Ranch Grassfed Cattle: Any cattle animal raised in a SunFed Ranch Grass-fed production system.
Cattle Body Condition:
Grass-fed cattle perform best when provided a steady plane of nutrition allowing them to grow healthily and consistently. Genetics, quality of feed/forage, environmental conditions and seasonality all play into determining appropriate fat cover on an animal.
Producers in this program will use a scoring method to monitor and document body condition of the cattle to focus attention on animal health and wellbeing.
The broadly utilized Beef Cattle Body Condition Scoring (BCS) is based around a 1-9 scoring legend outlined as follows: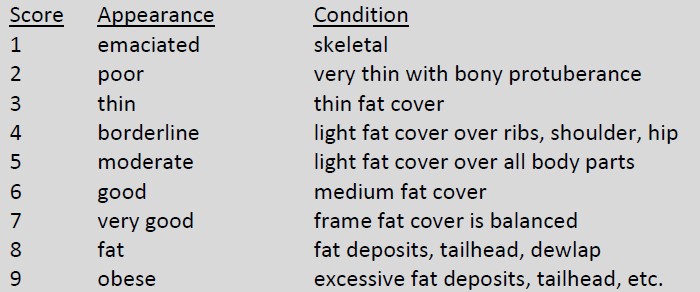 A score of 3 or higher is required for participation in the SunFed Ranch program, with a score of 5-7 being appropriate for grassfed cattle at time of harvest. Cattle with a BCS of 1 or 2 are considered mal-treated/mal-nourished and fall outside the parameter set forth within the SunFed Ranch Cattle Welfare Standards. Individual animals with a BCS of 1 or 2 shall receive veterinary attention and may be reintroduced to the program per veterinary recommendation. Observation of cattle with BCS 1-2 in over 30% of the herd signals mishandling or maintenance of inappropriate conditions for cattle and will result in suspension from the SunFed Ranch program.
Cattle Feed Standards:
Balage or Round Bale Silage: A practice that involves cutting the forage crop with conventional hay harvesting equipment, allowing the forage to wilt to between 30 and 60 percent dry matter, then baling it into tight bales and wrapping them immediately. Bales are wrapped mechanically using bale-wrapping equipment that tightly stretches several layers of plastic around the hay to exclude oxygen and allow proper ensiling.
Boot Stage (Grain): The flag leaf is fully expanded, but the awns and grain head are not visible. The grain head can be felt in the flag leaf sheath.
Brassicas: A family of very productive annual forage vegetables used as transition crops between pasture renovations or as a supplemental feed source for extending the grazing season when other forages are less productive, examples include turnips, rape, and kale.
Browse: 1) Leaf and twig growth of shrubs, woody vines, trees, cacti, and other non-herbaceous vegetation available for animal consumption.
Commercially Available: The ability to obtain a product in an appropriate form, quality or quantity.
Crop Residue: Portion of plants remaining after fruit and/or seed harvest, said mainly of grain crops such as corn stover or of small grain straw and stubble.
De Minimis: Amount too trivial or minor to merit consideration, <1.5%.
Diet: The feed regularly offered to or consumed by an animal, see ration.
Dough Stage: The kernel is filled with starch and is well formed. There is no milky fluid, only a rubbery, dough-like substance.
Dormancy: In a state of being dormant when no active growth is occurring.
Enticement: A feedstuff used with management practices but is not a part of the overall animal ration
Ensiled: Having been subjected to anaerobic fermentation to form silage.
Extenuating circumstances: include but are not limited to barn fire, family emergencies, federal or state mandated conditions, etc.
Family Farm: SunFed Ranch defines a Family Farm as a farm in which the farm owners own the animals and are responsible for all management decisions regarding operation of the farm/ranch.
Feedstuff: The constituent forages, feeds, or supplements of an animal ration.
Forage: any herbaceous plant material that can be grazed or harvested for feeding, except for grain. Including small grains harvested or grazed in the pre-dough stage.
Forage Products: Products derived exclusively from forage.
Forb: Any herbaceous broadleaf plant that is not a grass and is not grass-like.
Fruit: 1) n. The usually edible reproductive body of a seed plant, one having a sweet pulp associated with the seed.
Genetically modified organism: many methods used to influence the growth or development of organisms by means that are impossible under natural conditions or processes. Such methods include cell fusion, microencapsulation and macro encapsulation, recombinant DNA technology (including gene editing, gene deletion, gene doubling, introducing a foreign gene, and changing the position of genes when achieved by recombinant DNA technology). Such methods do not include the use of traditional breeding, conjugation, fermentation, hybridization, in vitro fertilization, or tissue culture.
Grain: Seed from cereal plants, caryopsis. Corn, wheat, rye, oats, rice, millet, sorghum, barley, triticale.
Grass: Member of the plant family Poaceae.
Graze: 1) the consumption of standing or residual forage by livestock; 2) to put livestock to feed on standing residual forage
Grazing Season: The period when pasture is available for grazing, due to natural precipitation or irrigation.
Growing Season: The number of days between the last spring freeze date and the first fall freeze date.
Hay: The aerial parts of forage crops stored in the dry form for animal feeding.
Haylage: Haylage is the feed produced by storing a forage crop, dried to a moisture level of about 45-55% in an airtight silo.
Herbage: 1.) The biomass of herbaceous plants, other than separated grain above ground but including edible roots and tubers. 2.) n. Green plants especially when used or fit for grazing.
Hydrolysis: The splitting of a substance into the smaller units by its chemical reaction with water.
Inclement Weather: Weather that is violent, or characterized by temperatures (high or low), or characterized by excessive precipitation that can cause physical harm to a species of livestock.
Production yields or growth rates of livestock lower than the maximum achievable do not qualify as physical harm
Kernel: A mature ovule of a grass plant with the ovary wall fused to it. Same as caryopsis.
Legumes: Members or the Fabaceae plant family (formerly known as the Leguminoseae family). Legumes are dicots (produce two seed leaves), produce seed in a pod, have netted leaf venation, and usually have a taproot type of root system. Most legumes can interact with bacteria of the genus Rhizobium to fix nitrogen in nodules on their roots. Legumes may have one of four types of seed heads. These seed head types are the raceme, the spike, the head, or umbel.
Meadow: Area covered with grasses and/or legumes, often native to the area, grown primarily for hay but with secondary grazing potential.
Milk Stage: Initial phase of grain development, after the flowering stage. In corn, the R3 stage. About 18 to 22 days after silking, when the kernels are mostly yellow and contain "milky white fluid.
Mineral: 1) n. a solid homogeneous crystalline chemical element or compound that results from the inorganic processes of nature. 2) n. The various naturally occurring homogeneous substances obtained usually from the ground. 3) n. a synthetic substance having the chemical composition and crystalline from and properties of a naturally occurring mineral.
Native Pasture: Native vegetation (predominantly herbaceous) used for grazing in untilled areas. The term tame or introduced is used instead of native for pastures that include mainly nonnative species.
Natural Resources of the Operation: The physical, hydrological, and biological features of a production operation, including soil, water, wetlands, woodlands, and wildlife.
Nighttime Confinement: Collecting of animals from dusk until dawn in a fenced enclosure, generally utilizing temporary electric fence or a designated sacrifice area, to keep animals protected from predators.
Non-fibrous carbohydrate (NFC): The fraction of a feedstuff made of sugars and starch.
Paddock: A grazing area that is a subdivision of a grazing management unit and is enclosed and separated from other areas by a fence or barrier.
Pasture: 1) n. Forages harvested by grazing animals. 2) n. An area of land with 75% forage cover or unbroken land on which livestock may graze at will.
Pasture-based: Land management systems where livestock are raised on pasture and allowed to graze freely and express their natural behaviors.
Pastureland: Land devoted to the production of indigenous or introduced forage for harvest primarily by grazing. Pastureland must be managed to arrest succession processes.
Pericarp: The ripened and variously modified walls of a plant ovary, especially those contributing the outer layer in a cereal caryopsis.
Prairie: Nearly level or rolling grassland originally treeless; usually characterized by fertile soil.
Range: Land supporting indigenous vegetation grazed or that has the potential to be grazed and is managed as a natural ecosystem. Includes graze able forestland and rangeland.
Rangeland: land on which the indigenous vegetation (climax or natural potential) is predominantly grasses, grass-like plants, forbs, or shrubs suitable for grazing or browsing use and is managed as a natural ecosystem. If plants are introduced, they are managed as indigenous species.
Rangelands include natural grasslands, savannas, shrub lands, most deserts, tundra, alpine communities, coastal marshland, and wetland meadows.
Ration: the total feedstuffs (diet) allotted to one animal for a 24-hour period.
Residue: that which remains of any substance.
Roughage: Any feed ≥ 18% in crude fiber and ≤ 70% in total digestible nutrients (TDN), on an airdried basis and are less than 5.5% crude fat.
Sacrifice pasture: A pasture where animals may move about and express their natural behaviors and where forage can be grown during the grazing season.
Seed: 1) n. Ripened mature ovule comprising an embryo, a seed coat, and a supply of food that, in some species is stored in the endosperm. 2) v. To sow, broadcast or drill small-seeded grasses, legumes, or other crops.
Seed head: See inflorescence.
Separated Grain: Grain detached from cereal crop plants.
Silage: Silage, as defined by SunFed Ranch, is forage harvested in the pre-dough stage of grain formation.
Soil and Water Quality: Observable indicators of the physical, chemical, or biological condition of soil and water, including environmental contaminants.
Starch: A polysaccharide having the formula (C6H10O5). Many plants store energy in starch. Starch is a major component of most livestock rations (especially fattening rations) and is highly digestible. Yields glucose upon complete hydrolysis.
Stockpiled Forage: Forage allowed to accumulate on a pasture or paddock for grazing at a later period. Forage is often stockpiled for autumn and winter grazing after or during dormancy or semi dormancy, but stockpiling may occur during the year as a part of a forage management plan. Stockpiling can be described as forage accumulation.
Stover: The matured cured stalks of such crops as corn or sorghum from which the grain has been removed.
Stubble: The basal portion of the stems of herbaceous plants left standing after harvest.
Supplement: A nutritional additive (salt, protein, phosphorus, etc.) intended to improve the nutritional balance and remedy deficiencies of the diet.
Supplemental Feeding: The practice of supplying feedstuffs to correct nutritional deficiencies in an animal's "natural" diet.
Vegetative: Non-reproductive plant parts, (leaf and stem) in contrast to reproductive plant parts (flower and seed) in developmental stages of plant growth. The non-reproductive stage in plant development.
Vegetative State: Stage prior to the appearance of fruiting structures.
Vitamin: Any of various organic substances essential in minute quantities to the nutrition of most animals and some plants that act especially as coenzymes and precursors of coenzymes in regulating metabolic processes