The following blog post is from SunFed Rancher, Megan Byrne:
On a recent Sunday, Matt and I took a trip to check cattle at the ranch near Browns Valley. As usual these days, we had our son Luke along for the ride. At nine months old, he's never met a heifer he doesn't like or a dirt clod he's not interested in. This requires a vigilant eye to keep Luke out of trouble or from eating something he shouldn't, but having him around makes ranch life all the more entertaining when we're able to see things through his eyes.
As we turned off the pavement and made our way down the gravel road toward the ranch, the first thing we noticed was the quality of the grass. Late October's rains and early November's sunshine had worked wonders on the landscape, and the gently rolling hillsides and wide pastures were covered with tall, verdant grasses we wouldn't normally expect this early in the winter grazing season.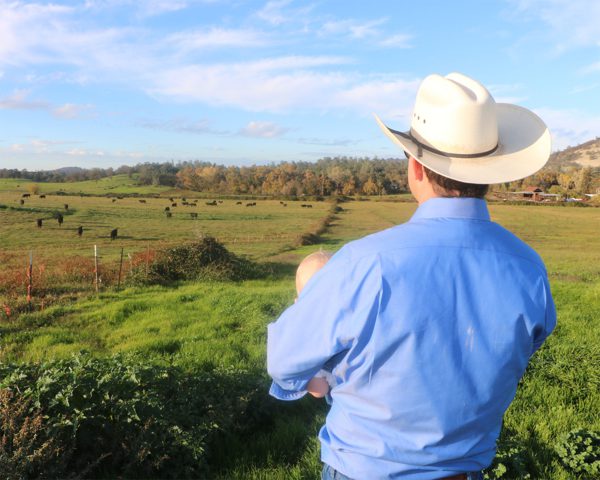 The cattle seemed to appreciate the abundance of fresh feed. They looked healthy and relaxed in the unseasonably warm afternoon air. We were pleased to see several members of the herd lying down in the field, a sign of a satiated animal with a full belly.
Per our normal routine, we spent much of the afternoon looking at groups of cattle in their respective pastures, and making stops to check on the state of irrigation ditches, fence lines and water troughs. Luke was delighted to be carried out of the pickup at each pause to get a closer look at the vegetation, water bugs and livestock. I always wonder what Luke thinks of the cattle and whether he's curious as to why we keep driving around looking at crowds of big, funny-looking dogs. Whatever he thinks of them, it has to be all positive because we got a lot of squeals and hoots out of that kid.
After we finished checking the herd, we stopped to visit Mark who works on the ranch crew. With him was his friendly cow dog, a big sweetheart and a sucker for good pats. Luke wasn't sure what to make of him at first so I had to hold him while Mark's dog said hello and got a few friendly sniffs in. Then Luke saw Mark's barn cat Johnny Cat – a thick, soft tuxedo cat with a purr like an outboard motor. Cat clearly trumped dog and Luke was content to spend his time with Johnny Cat, who was happy to oblige him while Matt caught up with Mark.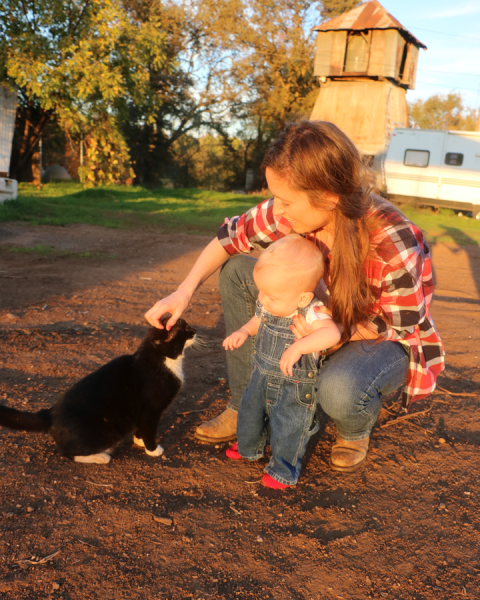 Finally, we said our goodbyes to Mark and the pets and loaded back into the pickup. Luke got a well-earned snooze on the way home while I flipped through photos on my camera, as Matt and I talked about how good the grass was and what we were going to make for dinner. It was such a perfect way to end the weekend and we always feel our best when we can spend time outdoors with the critters. And most importantly – we decided we should get Luke a cat of his own! Maybe for Christmas, we'll see.